OpenFest is one of the biggest tech conferences in Bulgaria and probably the largest dedicated to the free culture, knowledge sharing, and open source software. It is the most anticipated annual event of fans, creators, innovators and supporters and friends of the open source and free art in Bulgaria as well as from abroad.
The purpose of OpenFest is to promote projects created with free and open software and to provide a forum for exchanging ideas and best practices in the field.
The motto of OpenFest is "Let's share the freedom!"
The first OpenFest happened in 2003 in Sofia and since then it is held every year. This year it was its 14th edition.
The event was free and open to old and new friends and fan of open knowledge sharing and learning culture.
The members of Coding Girls: Maria Totova and Irina Ivanova applied for OpenFest and were chosen to be part of it. They successfully delivered two workshops:
Coding Girls: How to Teach Children First Steps in Programming with MIT Scratch by Maria Totova on 5 Nov, 15:30 - 16:30, venue: Sofia Tech Park
Coding Girls: Start Building Android Applications with MIT App Inventor by Irina Ivanova on 5 Nov, 16:30 - 17:30, venue: Sofia Tech Park
To begin with, Anna Radulovski, the founder and CEO of Coding Girls delivered a short introductory presentation about the mission of Coding Girls, achievements and future events and called the participants to join the organization as well as to spread the word about the initiative
In our first workshop, "How to Teach Children First Steps in Programming with MIT Scratch", Maria Totova explained the principles, ideas and benefits of Scratch. Maria is the Coding Girls Bulgaria Leader and Educational Engineer at Coding Girls. She has conducting courses for children from 7 - 13 years.
Indeed, introducing computer programming to kids no longer needs to be a challenge and this is what I wanted to demonstrate in practice by developing a game together with the attendees! We were happy to have several little fans of Scratch in the group who did so great and confirmed once again that learning through play is the key to success. The rest of the participants also felt the same and we were very glad to find new partners and future instructors among them. To put it briefly, using Scratch makes a difference." - Maria shared.
Successfully implemented 2 #workshops at @openfestbg and took a pic with (probably) the biggest @scratch fan in Bulgaria #openfest #tech pic.twitter.com/vrByBJEE9k

— Coding Girls (@CodingGirlsCom) 5 ноември 2017 г.
In our second workshop "Start Building Applications with MIT Scratch" Irina Ivanova explained how the everyone (even kids) can learn app building and it can be fun!
"Personally, I was very excited to meet creative children with passion for technologies. And they were pretty good at them! We created a simple game ('Guess the number') for Android devices. The best thing is that we learnt new things together and we had fun during the workshop. I really hope that they will keep up the good work. They are the people who will transform our world and society through technologies. Anyone can build apps that impact the world. You can too!" - Irina shared.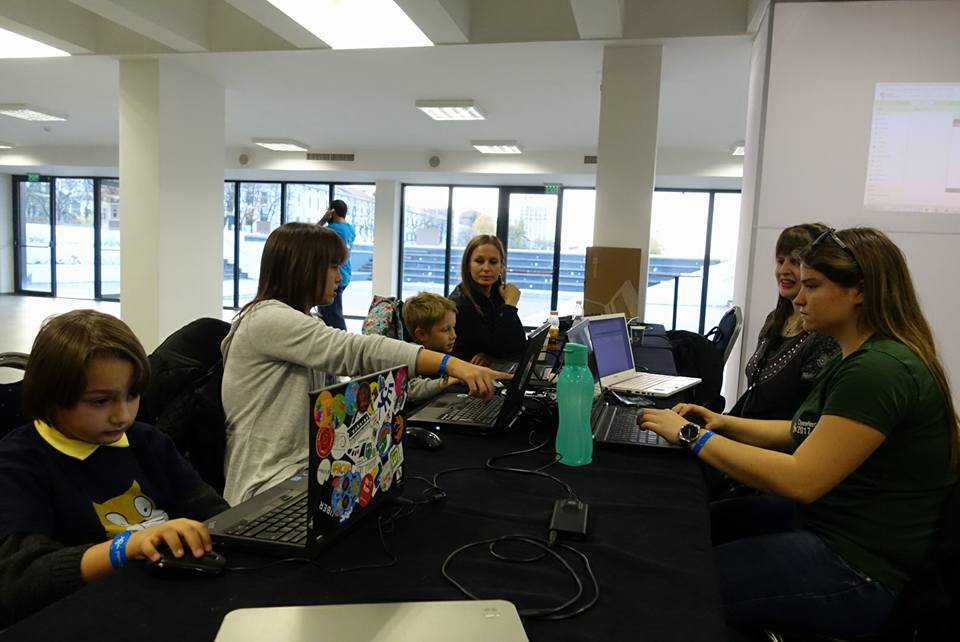 A bit tired, but happy #CodingGirls after giving workshops for beginners at @openfestbg #openfestbg #openfest2017 #scratch #tech #code pic.twitter.com/mfd1aH8fti

— Coding Girls (@CodingGirlsCom) 5 ноември 2017 г.
The organizer of OpenFest is the Open Projects Foundation, supported by the whole free/open source community in Bulgaria, partners, sponsors, and friends. More information is available at the website of the event.
P.S. Huge thanks to the organisers of OpenFest for their dedication, time and help during the event and our workshops!